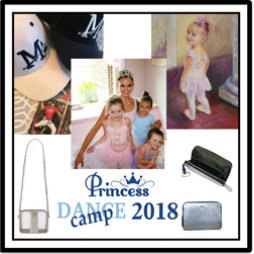 Raffle tickets are $5 each or 3 for $10
1. Kelly Wynne Money Maker Mini Wallet valued at $105
It may be a mini, but its mighty interior boasts two large pockets to hold all your cash money and two small slots to carry your shiny cards.
Donated by Kelly Wynne.
2. Princess Dance Camp 2018 valued at $125
Dancers ages 3-7 are treated to a week of fun and fantasy at Mississippi Metropolitan Dance Academy's Princess Dance Camp, July 9-13 at the Madison studio. Ballet and tap fundamentals, ballet story-telling, princess dress up, ballerina crafts and visits from favorite fairytale princesses are all part of the magic.
Donated by Mississippi Metropolitan Dance Academy.
3. Kelly Wynne Mingle Mingle Mini valued at $195
The classic Mingle Mingle Mini in a clear version to comply with the new NFL/NCAA stadium handbag regulations [requiring a clear bag or a 4.5″ x 6.5″ handbag]. It's easy to follow the rules while you're styling this Mini with leather panels in signature textures and luxe chain strap.
Donated by CoatTails.
4. Mattie Fru Fru's Ballerina Party valued at $200
A ballerina party for your little princess! Mattie Fru Fru's brings the party to you. A pre-professional ballerina entertains your little ballerina with dance, play, and ballerina princess makeovers that include makeup, hair, glitter & sparkles!
Donated by Mattie Fru Fru's
(769) 233-3485
5. MBraves 2 for 2 valued at $300
Two dugout level tickets for two MBraves home stands in the month of June. Plus a prize package of
MBraves memorabilia and merchandise.
Donated by Dale Shearer and MBraves
6. Janet Shearer Original Oil Painting Commission valued at $1,500
Artist Janet Shearer captures your favorite person, place or memory in beautiful colors. Reference photography session included, if desired. Or choose an in-stock original oil painting up to $1,500 in value.
Donated by Janet Shearer Fine Art
Tags: