Regional Dance America is a national organization of pre-professional ballet companies that recognizes and promotes quality ballet performance and training across North America. Mississippi Metropolitan Ballet is the only ballet company in the state of Mississippi that is a member of this prestigious organization.  In 2008, MMB Artistic Director Jennifer Beasley and Artistic Associate Crystal Skelton led the company through the RDA evaluation and audition process and the company was accepted as a Performing Company member of Regional Dance America/Southeast.  Since that time, MMB's membership in RDA has been a driving force in the artistic and technical development of the company.  In 2019, MMB was elevated to the status of RDA/SE Honor Company. The designation of Honor Company recognizes consistent superior performance and is the highest level of participation in Regional Dance America.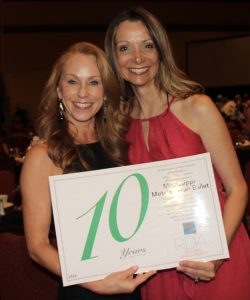 RDA member companies across the country participate in an annual Adjudication Tour and an annual Festival within their region.  During the Adjudication Tour, a world-class ballet professional observes ballet class and performances of several short choreographic works prepared by each of the RDA companies.  The Adjudicator selects one or more works of choreography for each company to perform at the annual Festival, and gives feedback on the dance instruction, technique, and artistry at each company he or she visits.  This process provides RDA member companies with valuable objective critique.
The choreographic works prepared for Adjudication are in addition to MMB's annual production of The Nutcracker and its full-length spring ballet, and are usually commissioned specifically for the company, which provides MMB dancers with the opportunity to work with well-known, award-winning choreographers in a variety of dance styles.
Following Adjudication, which typically occurs in late January or February, MMB dancers attend the annual Festival in late spring.  The Festival is held in a different location across the Southeast each year, with a national Festival occurring once every five years.  At the Festival, dancers participate in master classes, scholarship auditions, and nightly performances (both as audience members and as performers.)  The Festival allows dancers to experience a wide variety of dance styles both in class and on stage, deepening their understanding of and appreciation for their chosen art form.
Prior to the 1950's, viewing beautiful, powerful dance performances was limited to urban areas in the United States.  The first southeast regional ballet Festival held in 1956 in Atlanta, Georgia marked the beginning of the regional dance movement, and gave rise to the Regional Dance America organization.  Today, RDA serves approximately 1500 pre-professional dancers across the country and offers $2.5 million in scholarships for summer ballet intensives and college scholarships annually.  Mississippi Metropolitan Ballet is proud of our membership in Regional Dance America.  To learn more about RDA, follow the link below.